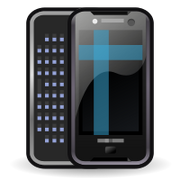 These exercises involve accessing the internet from a cell phone or a smartphone.
If you have a smartphone with Wifi, you can connect to a wifi network to avoid extra charges.
If you want to use a regular phone to try these exercises your carrier may charge you for using the internet.
Regular SMS charges will apply for SMS messages
Open the browser on your phone and go to m.google.com
Do a Google search
If your phone cannot access the internet, you can try a Google search using Google SMS. The page includes an interactive phone to try if you don't want to send an SMS.

Text your search to 466453.
Write about your experience using the internet on your phone. Was the screen hard to read? Did the pages appear right?
If you tried SMS, did you get good results for your search?
Community content is available under
CC-BY-SA
unless otherwise noted.