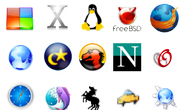 What browser are you using? If you don't know the answer,it is probably Internet Explorer. This exercise will introduce you to some other browsers that have advantages over Internet Explorer.
Open a new tab in each browser
Install an extension like Adblock on Firefox or Chrome.
What difference do you notice between Firefox/Chrome and Internet Explorer?
What difference do you notice between Opera/Safari and Internet Explorer?
Try visiting a familiar page after you have installed Adblock, write about the differences you see.
Extensions
Edit
Community content is available under
CC-BY-SA
unless otherwise noted.